Home
-> Medical Equipment
Active Hyperemia Chamber
Description Indications and contra-indications Technical specifications Certificates Brochure of chamber
---
DescriptionТор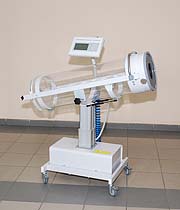 The purpose of Active Hyperemia Chamber is healing of peripheral vascular abnormalities (arterial, venous, lymphatic).
The field of application: physiotherapy. The chamber is intended for using at patient care institutions, medical research institutions.
The chamber has its prototypes, such as barochamber «Kravchenko» which had its wide application in clinical practice within the Soviet Union territory.
The function of Active Hyperemia Chamber is leading of vacuum-compressor therapy (VCT) with the aim of restoration of circulation of the blood in lower and upper extremities. A structure of a medical seance is assigned with the help of in-built software.
The medical seance includes variation of the inside air pressure within the time interval.
The base of the active hyperemia method – cyclical alternation of vacuum and overpressure air in closed volume according to a specified algorithm of a medical seance.
Active Hyperemia Chamber includes the following: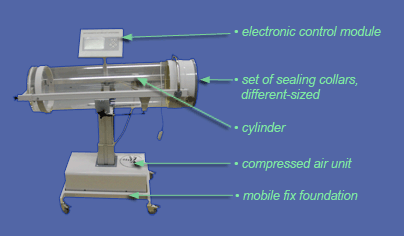 Information on physiologic parameters of a patient (SpO2, pulse rate) and physical parameters inside the cylinder (pressure in a chamber, pressure in a sealing collars) in graphical and digital form is displayed on a liquid-crystalline monitor.
---
Indications and contra-indicationsТор

Indications for use of active hyperemia:
Obstructive arterial involvement of extremities (for example, arteriosclerosis obliterans, diabetic angiopathy, sclerodermatitis);
Functional disorders of extremity arteries (e.g. Raynaud's disease, Raynaud's syndrome);
Disorder of venous and lymphatic circulation (stasis);
Disorder of tissue trophism in extremities of disparate aetiology;
Posttraumatic states;
Prophylactic and medical rehabilitation;
Another (e.g. in neurology, orthopaedy, rheumatology, cosmetology, professional and sport medicine).
Contra-indications: trombophlebitis.
---
Technical specificationsТор

Maximum overpressure

kgf/cm2

0,2

Maximum depression

kgf/cm2

0,2

Outer diameter of a cylinder

m

0,3

Length of a cylinder

m

0,9

Height of a chamber in lower position of a cylinder

m

0,82

Height of a chamber in upper position of a cylinder

m

1,02

Tilt angle of a cylinder

degree

±15

Weight of a system

kg

< 100

Power supply

V,Hertz

220,50

Workspace – air from an in-built compressor
---
CertificatesТор

The Quality management system is applied at our enterprise in the field of designing, production and servicing of medical hyperbaric chambers ISO 9001-2000, ISO 13485:2003
---
Brochure. Active Hyperemia Chamber.Тор