Home
-> International Contacts
International contacts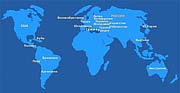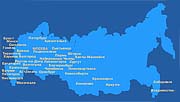 During several years our systems have been successfully operated in many countries: Australia, Argentina, Brazil, Greece, Peru, Panama, South Korea, USA and of course in Russia and former Soviet Union.
YONGDOO MEDICAL TRADING CO., Ltd. Seoul, South Korea
CLINICA JUVENCIA, CENTER OF ESTHETIC SURGERY Lima-Peru
Due to application front line space technologies to its design our equipment provides high reliability, cost savings, comfortable conditions for our patient and convenience of operation.
We take an active part in the industry trade shows, congresses that allows us to monitor HBOT development worldwide and be open to our clients recommendations and suggestions.
Major event: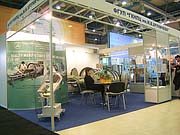 Interational trade show "Zdravoohranenie" is held annually at the end of the year in Expocenter on Krasnaya Presnya in Moscow, Russia
We participate since 1994.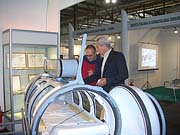 ME&CGDivision took part in the
International Medical Exhibition "MilanoCheckUp"
, which took place
June 6-9, 2007
in Milan (Italy) in the territory of a new exhibition complex Fiera Milano. Large interest was expressed toward not just presented and already known abroad
monoplace hyperbaric chamber BLKS-303MK
(it was presented in the booth) but also to other medical equipment. Many questions were raised on treatment methods and application fields of the
HBOT therapy method
itself.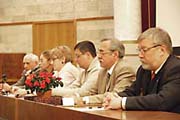 January 24-26, 2007
3 rd All-Russia Conference with international participation
"Current Issues of Clinical Hyperbaric Oxygenation"
took place in Moscow.
The Conference organizers
:
- Hyperbaric Oxygenation Department of SEI Russian Post Graduate Medical Academy (RMAPO);
- Federal State Unitary Enterprise M.V.KHRUNICHEV STATE RESEARCH AND PRODUCTION SPACE CENTER Medical Equipment and Consumer Goods Division.
The Conference participants:
- leading specialists of Russia, Ukraine, Belarus, Moldova, Uzbekistan, Kazakhstan, Lithuania, Latvia;
- members of European Undersea and Baromedical Society;
- members of the Society from Germany, Austria, and Hungary;
- representatives of Khrunichev State Research and Production Space Center ME&CG Division.
Specialized trade show "Medicina"
September 2004, Russia, Kaliningrad

All-Russian Conference with international participation
"35 Years of Hyperbaric Medicine: Results, Problems and Future Prospects"
January 22-24, 2003, Moscow, Russia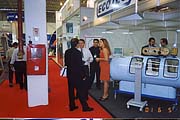 Annual international Trade Show
"Hospitalar - 2001"
June 2001, San Paolo, Brazil
Hyperbaric system BLKS – 303 was demonstrated in "Ecotec" booth.
International conference
"High technologies of Defense Industry",
March 2001, Expocenter, Krasnya Presnya
Russia, Moscow

IV Army Scientific and Informational conference with international participation
"Hyperbaric Therapy in Complex Treatment and Rehabilitation of Wounded and Sick Military Personnel"
May 2000, Russia, St.Peterburg